Aiga Box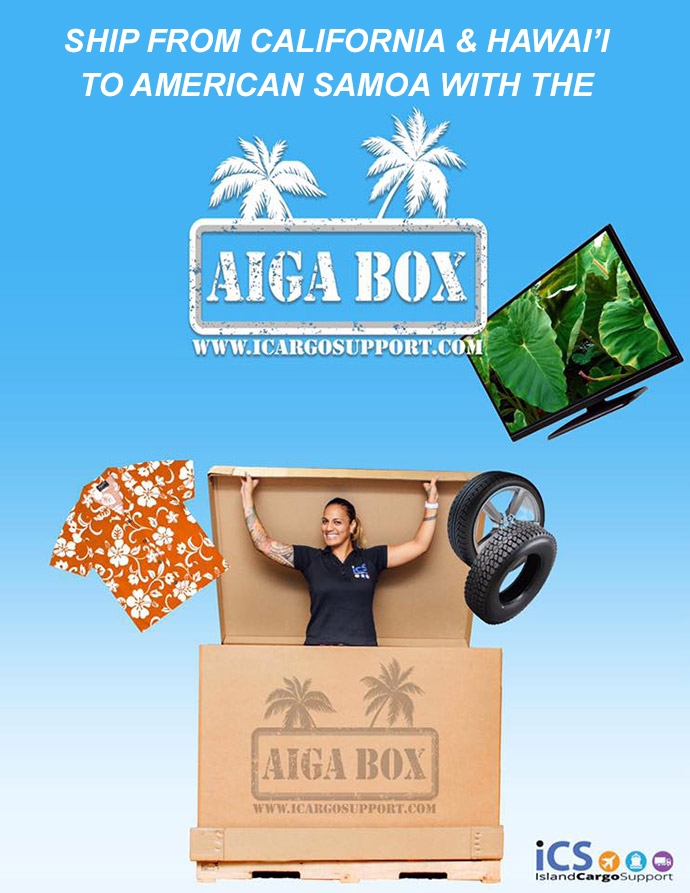 What is an Aiga box?
Aiga boxes are designed to safely and efficiently move freight by both air and ocean barge. Aiga boxes provide an affordable way for families, churches, and businesses to stay connected to those off-island. By using these fixed-cost boxes, customers can avoid the expense of having to book a full container to move freight.
Aiga boxes come in a variety of sizes, giving the shipper a range of choices for sending special items in a safe and secure container.
How much do Aiga boxes cost?
Aiga Box: Extra Large
58" x 41"x 45"
Please contact our iCS ocean team for price email lax@icargosupport.com
Frequently asked questions about Aiga boxes
What can I pack in my Aiga box?
Household shipments may include clothing, shoes, toys, gifts, canned food, dry goods, small furniture (such as lamps and side tables), antiques, and heirlooms.
Aiga is the Samoan word for "family." Aiga boxes are designed so that family members can send items to loved ones living overseas. ICS is the only company that offers Aiga boxes to the people of the Samoan Islands.
Can I combine items in my box with my friends' and family's items?
Yes—that's why we call it an Aiga box! By working together with friends and family, you can help bring down the overall cost of shipping an Aiga box. However, there can only be one shipper of record and one consignee (individual to whom the box will be delivered) who is ultimately responsible for the contents that are declared to customs.
The box is made of very rigid cardboard that effectively protects the contents.
If I buy my Aiga box, can I reuse it?
Due to the local humidity and rain in Samoa, an Aiga box is typically only good for one or two trips. We do offer a Super Tough Aiga box, for rent only, that is reusable. This box is constructed of heavier cardboard, and its plastic top and bottom offer a more protective environment for goods.
How many times can I return to the ICS warehouse to load my box?
You may return as often as you need. However, you will need to set up an appointment for every return visit and pay an additional loading fee of $35.00 for each forklift move of your box. For the easiest and most cost-effective experience, we strongly recommend loading your entire box in one visit.
How do I carry the Aiga box on my truck or trailer?
If you are transporting the Aiga box in an open-air vehicle, you must securely strap it down to prevent the top of the box flying off in transit.
What documentation do I need to provide when shipping an Aiga box?
You will need to declare your shipment by creating a detailed packing list that outlines the contents of your box and its value (per item, if possible), as well as noting your preferred shipping date. You will also need to secure transport documents, such as a cargo receipt (or official receipt) for fees paid, and a bill of lading issued by ICS.
Guidance on packing your Aiga box
Follow these tips to ensure that your Aiga box arrives at its final destination with its items secure and intact every time.
Line the inside of the box with large, heavy-duty plastic bags. Doing so will keep the contents clean and neat.
Secure and protect your items.
Tape the bottle caps and covers of containers of liquid (such as shampoo), or pack fluids in sealed Ziploc bags.
Bubble-wrap fragile and breakable items.
If possible, keep fragile items in their original packaging.
Position soft items such as clothing, bed linens, coats, and shirts between fragile items so that they are cushioned and lie snug against each other.
Never over-pack your box.
Never send restricted items (for more information, see our detailed list of restricted items below).
Fully complete all of the shipper's documentation.
List the items you have packed so that you remember what is inside your box.
Label your box. Write the recipient's name and address neatly and legibly on the front side of the box.
Include important information such as the recipient's contact details (e.g., mobile phone and/or landline).
Always use common sense in packing your box.
Restricted items
All Aiga box shipments are subject to local customs and regulations.
If prohibited or restricted items are shipped in Aiga boxes, the items will be put on hold at either the origin or destination point, and the shipper will be subject to fines and/or jail time.
Restricted items include but are not limited to:
x Alcohol (any items with alcohol as an ingredient)
x Animals, dead or alive (including fish, birds, insects, and animal skins)
x Asbestos
x Bullion (of any precious metal)
x Currency (cash, money orders, stamps, etc.)
x Dangerous goods (e.g., aerosols, perfumes, pressurized cans, and flammable liquids)
x Firearms and parts, ammunition, explosives, and weapons of any kind
x Fireworks
x Hazardous or combustible material (as defined in IATA Regulations)
x Human remains, including ashes
x Illegal goods
If you have questions about the legality of any items in your shipment, please contact AS Customs directly.
x Illegal narcotics
x Insects, larvae, and pupae
x Lighters and matches
x Lithium batteries
x Negotiable instruments in bearer form (e.g., traveler's checks and bearer securities)
x Perishable items such as food
x Plants and seeds
x Pornography (videos, DVDs, magazines, adult toys)
Certain countries have additional guidelines for prohibited or restricted items. For more information, please consult with the relevant government agencies in your country.
It is the shipper's responsibility to comply with the current government regulations and laws of each country. Shipments are subject to inspection and possible delays by customs officials or representative of other government agencies.
Customs
All shipments are subject to local customs regulations upon both export and import. Taxes and duties are assessed upon arrival and are the responsibility of the customer receiving the freight.
Packing Options
Option 1
You can conveniently load your Aiga boxes at our warehouse. If you are packing your box at our facility, the packing must be done in the designated packing area. Our warehouse staff will deliver the Aiga box to the designated ICS loading area and then pick it up to bring it back to the warehouse. We do not charge a fee for delivering the Aiga box to the loading area, but additional drops for the same shipment will incur a $10.00 fee for each box that needs to be moved by forklift.
Option 2
If you are packing off-site, you may take the Aiga box to your location and pack goods there in accordance with customs and transportation regulations. You must pay a deposit in order to take the Aiga box off-site. This deposit will be applied to your freight charges when you return the box to our site.
Transit Time
The average transit time for Aiga boxes is 21 days, port to port. Please allow 30 days from dropping off your shipment at our facility to recovering your shipment at destination. This time frame allows for transport time to and from the port and time for loading the shipment on and off the boat. Shipments are subject to delays due to space availability and weather.
Insurance
Not all freight is insurable. One of our staff members will help you determine whether the contents of your Aiga box can be insured.
You may be able to purchase insurance based on the value of shipment, in case of total loss of goods.
If insurance is purchased, extra fees and charges will apply.
If insurance is not purchased, legal liability limits will apply.
We are not liable for any breakage of items in an Aiga box.
Freight Charges
Freight charges must be prepaid in full prior to shipping. We do accept cash. We only accept company checks for pre-approved corporate accounts.
Destination Fees
Additional destination fees may apply, including but not limited to:
Duties and taxes
Storage
Customs handling
Destination terminal handling charge: $30 per cubic meter
Administration fee (standard handling fee): $25.00
X-ray fee: $6 per cubic meter (minimum charge: $10)
All inbound cargo in Samoa is x-rayed by customs.
Storage
Customers must pick up their Aiga boxes within seven days of the freight's arrival. If boxes are not picked up within seven days, storage fees will apply ($10 per box per week). Packages that remain unclaimed 30 days after arrival will be disposed of at the direction of ICS.