ICS Projects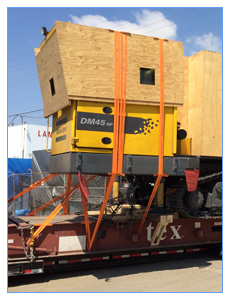 ICS is the go-to company for projects in the South Pacific.
No project is too big, too small, or too complicated.
Effective project freight management services themselves are a crucial factor in the successful scheduling of major engineering and construction projects, be they located onshore or offshore; be they in island atolls without wharf facilities, or remote mountainous areas in island countries like Papua New Guinea.
Island Cargo Support's principals have more than 30 years' worldwide experience in solutions for handling specialized cargo. Projects are defined by people. And the quality of services provided by Island Cargo Support in the handling of freight management contracts – for projects large or small, complex or straightforward – is defined by Island Cargo Support's own people; people who are highly experienced, proactive and reliable team players whose expert knowledge is backed up by the company's resources in procedures, IT, and finance.
Island Cargo Support delivers high-level performance techniques and expertise to ensure the cost-efficient coordination and shipment of every project requirement.
Our services include:
Ship chartering

Vessel/boat loading

Multi-modal transportation

Packing and inspection

Warehousing/bonded storage

Site material control

Route surveys

Expediting

Site installation

Rigging and crane movements

Transport consultancy
Customs formalities

Cargo air charters

Aviation studies

Marine supply base management

Supply base engineering design

Material offtake facility engineering design

Software support and development

Contract preparation

Risk assessment

Freight transit insurance